Brand: new spring
Materials: felt
Pattern: solid color
Time to market: summer 2013
Origin: Yiwu
Product name:felt placemat Kit
Product color: yellow orange purple pink red green blue(can be customized according to customer specified color number)
Minimum order quantity: 100 per cent
Mat size: 40*30cm
Coaster size: 10cm
Material: high quality wool felt
Case Pack: 600 pieces/box
General delivery time: 10 days
Product description: product made of high quality wool felt material, full insulation, high temperature 150 degrees or so, durable protection desk, coffee table
Note: the mat cannot be washed, when cleaning, wipe with a damp cloth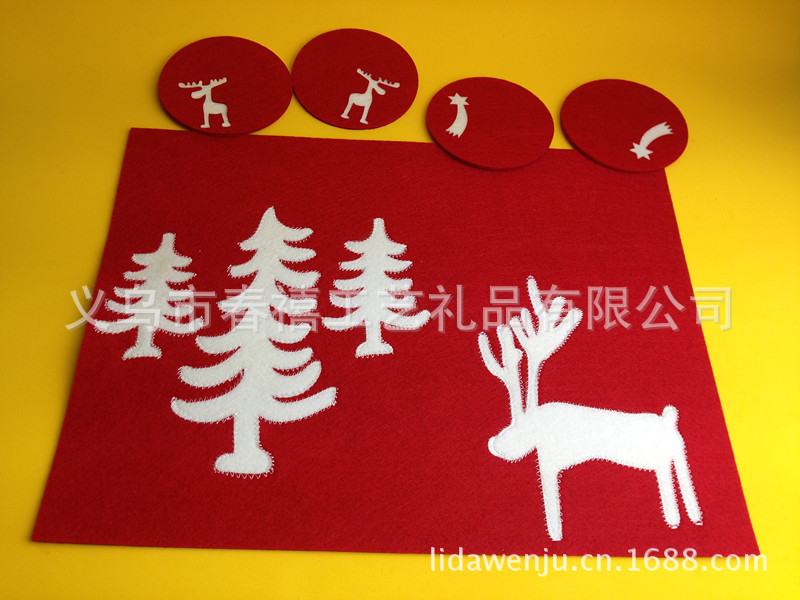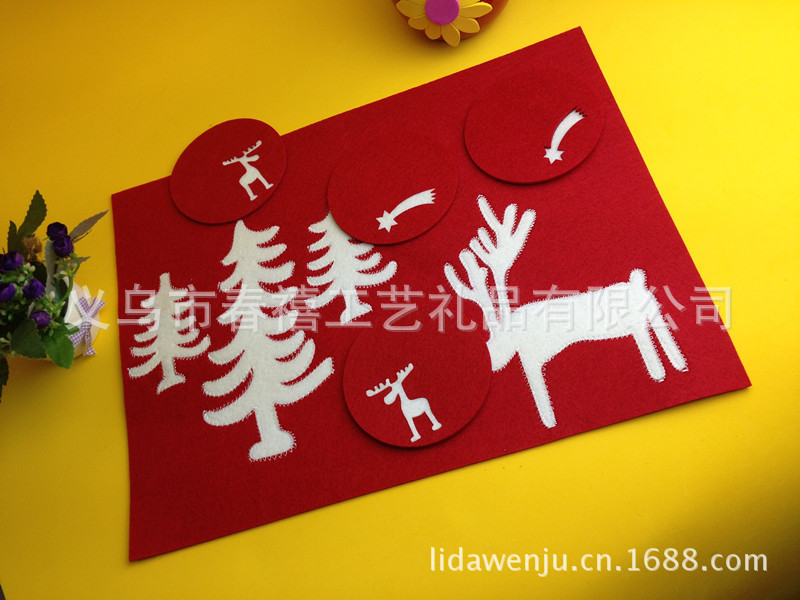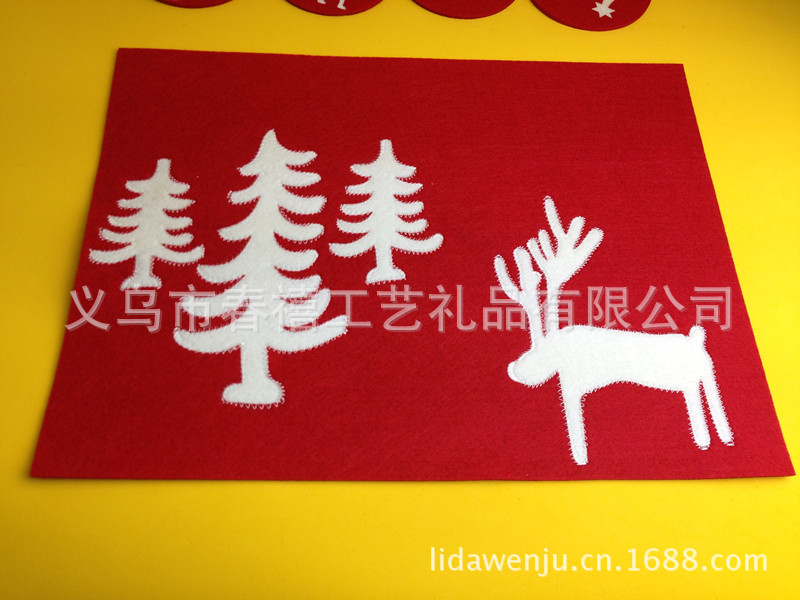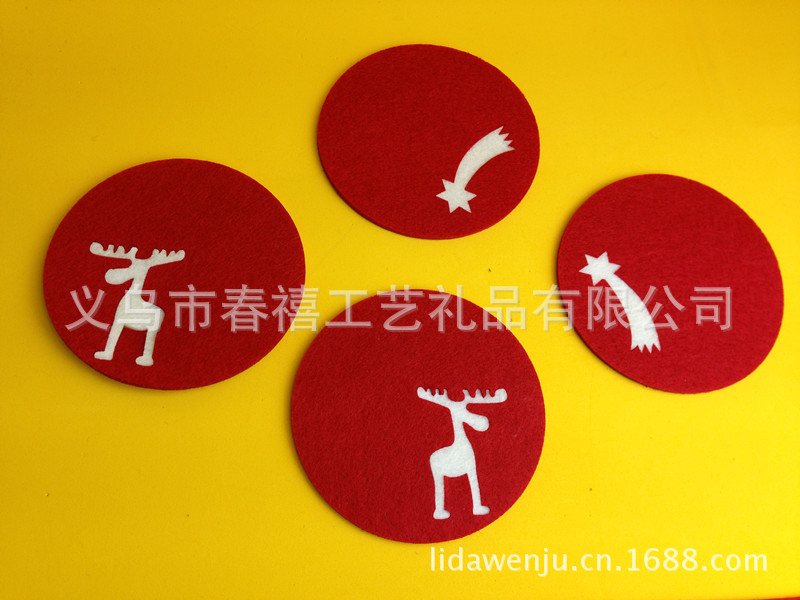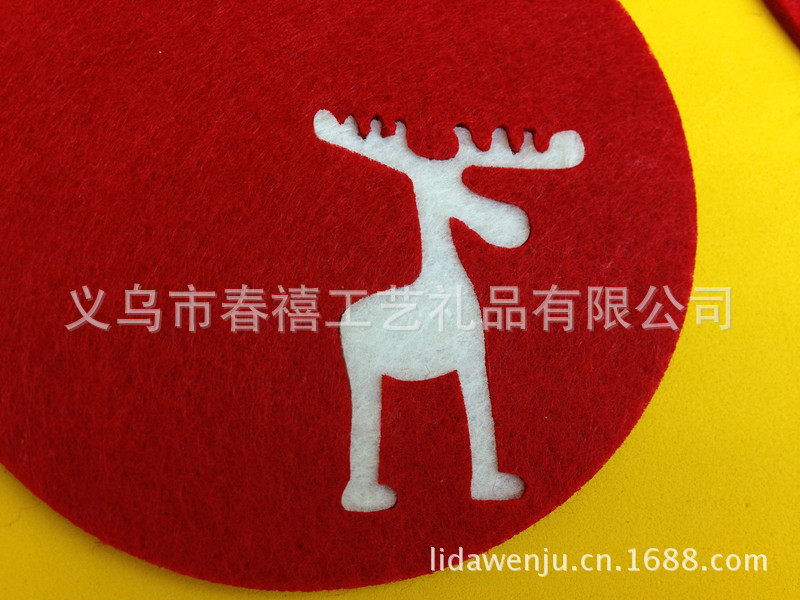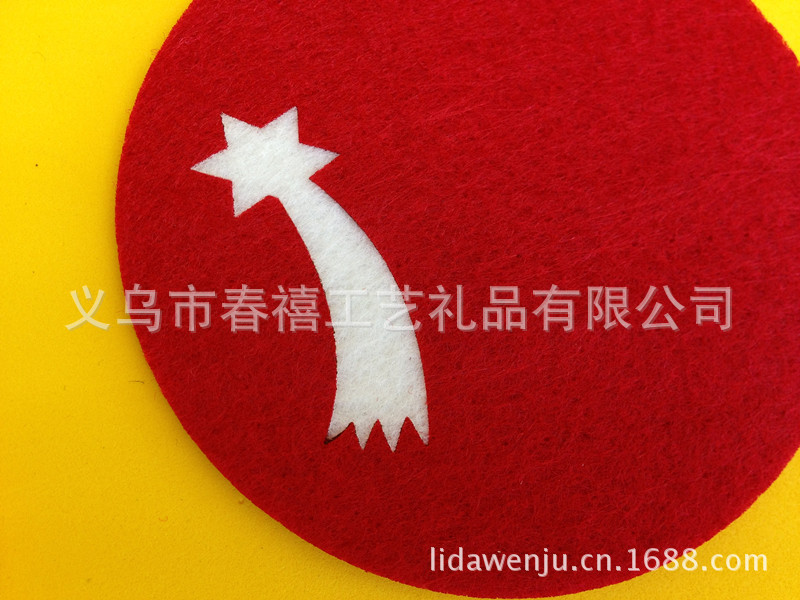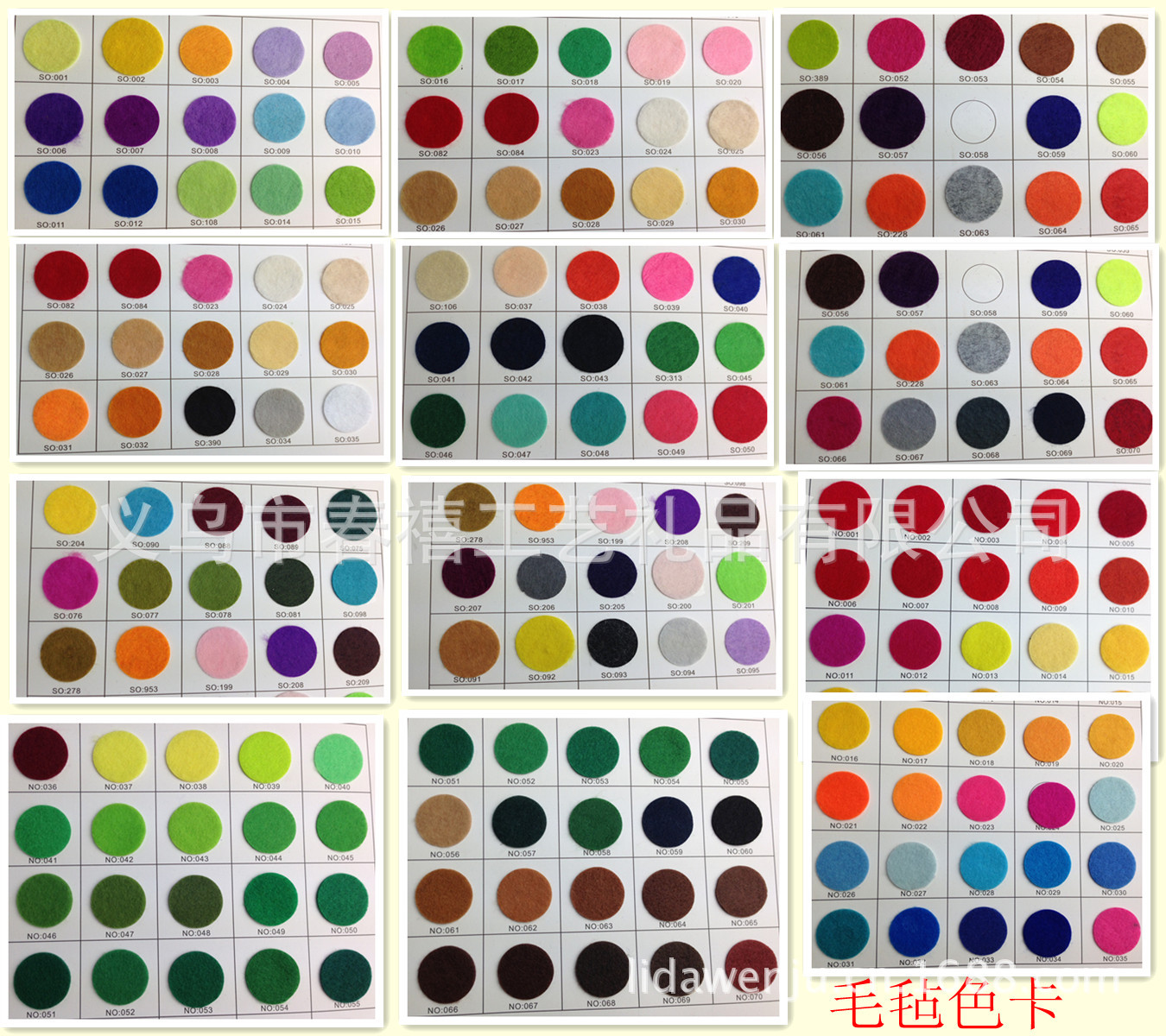 A: how to order
① wangwang online chat, EMAIL, QQ and so on,
② by telephone (13967426989), be disclosed to your request, thank you!
Two: order process
Provide customers with design drafts, we confirm the file OK, customers paid proofing costs, our design proofing and sending out samples. (Sample orders return).
OK confirm samples, sign production contracts, customers pay a deposit of 30%, we arranged the mass production, mass OK (photo or confirm send production samples or customer in person inspection), customers pay the balance, we arrange shipping if it is exported, see copy of Bill of lading payment can also be seen we issue VAT invoices to pay.
Three: custom-made according to customer requirements
Us according to the customer's specifications, design, quantity production
Thursday: before buying please contact Mong Kok
Customers can contact Mong Kok before purchasing, please Lord, asking to purchase the commodity situation, transportation and other situations, so as to allow you to accurately informed of the commodity in question, but also to reduce and avoid unnecessary misunderstandings.
Other styles: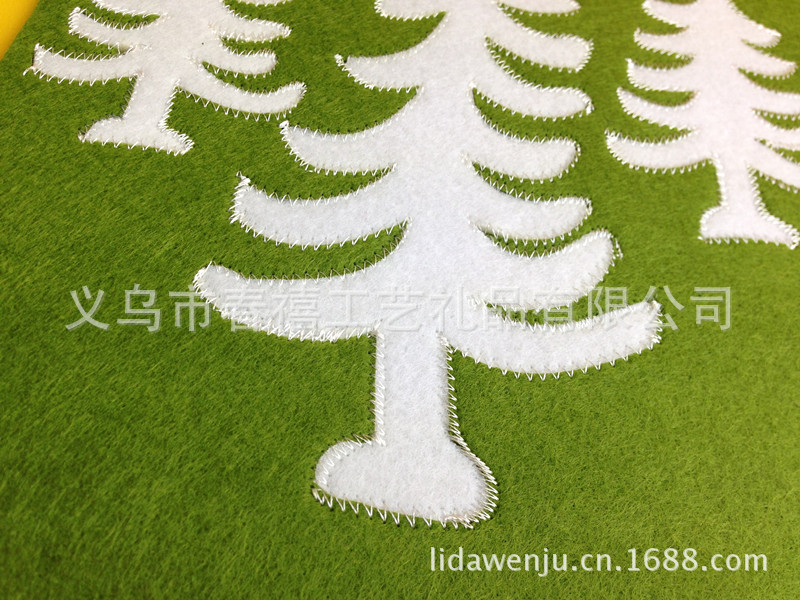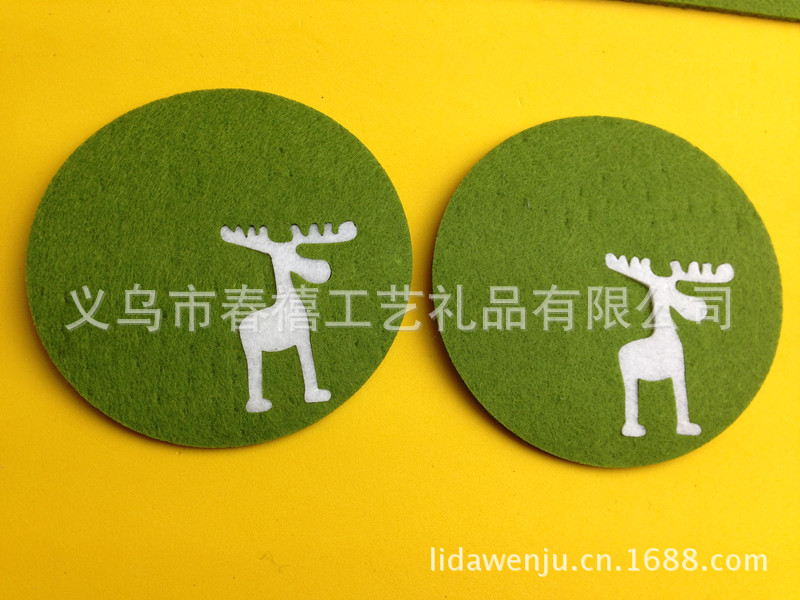 Procurement notes: this company all items are is real shooting, but due to shooting environment and the personal on color of different awareness, also due to light and the computer displayed, multifaceted of causes, real and pictures Zhijian may still will exists little of chromatic aberration by light, and equipment and display differences, effects, chromatic aberration cannot completely avoid, baby photos color may and real slightly difference please members procurement commercial to real for associate.
Returns a replacement question: within 7 days of receipt, regardless of the reason, as long as you want to, without affecting the second sale of the case, may apply to the customer service of the company require return. Return premise: thegoods are unused, packing of goods, various accessories, such as invoices or returning gifts, if not quality problem, the postage themselves.
Product sign please be sure check it out in front of couriers, found the problem please do not hesitate to contact us and take photos as evidence, we must properly handle that for you, following the sign for merchandise, goods damaged goods Exchange and on the compensation, we have every reason to refuse.
Goods without customers signed before we assume full responsibility for, and if a package is signed, only to be found less lost cargo of domestic problems, we do not assume any liability. Like a commodity there is any quality problem, please contact us within 48 hours after the signing, after 48 hours will be considered to be goods without quality problems, does not bear any responsibility.
Therefore sincerely hope that buyers ordering more advice, compare, know what you do in order, returned repeatedly to both sides to avoid the unnecessary expense and duplication of work.
Shipping time frame: If your goods down, we will ship to you within 48 hours! Will inform you if there are other reasons.
Note: order number, please contact us, we will send you the logistics, freight collect, the cargo to the designated site, the customer received.
Payment: Please use PayPal to take commodities, wrote at the time of payment of the self to color, size and so on (Note: a pre-sale ask customer service if it is available) if money is needed, please contact customer service to obtain a bank account in a timely manner.
Receipt Note: Please purchase commercial courier companies, staff at the post office to collect the parcel, is important to note that "acceptance of the package in the quantity of goods on the spot whether or not; whether the external surface of the product fell significantly due to, such as damage caused by collision, extrusion, pressing, please confirm before signature signed for. Logistics (Post Office, courier etc) damaged buyer refuses to sign and, please contact us. (Shipping is included. Boxes of goods being damaged goods delivery in shipping companies hand-picked a spot, please, if you have any questions, please check with the seller the first time and refused to sign. )